TWICE#2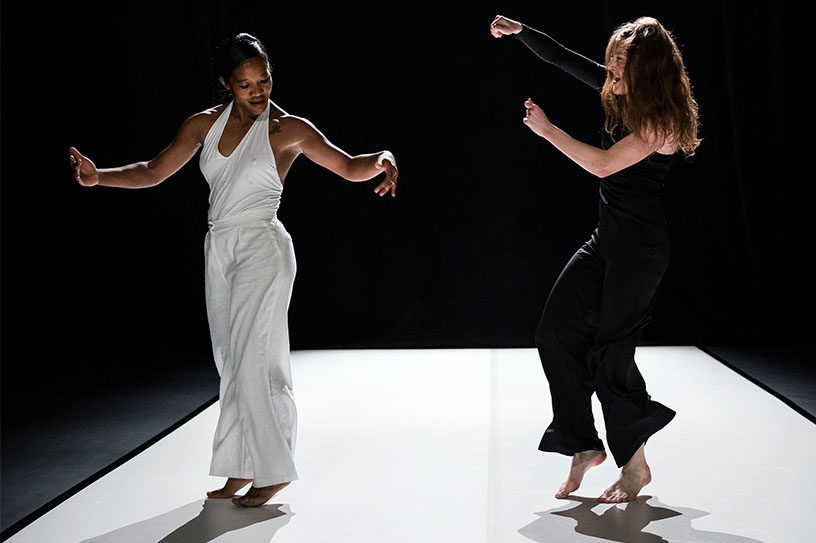 Épaulette – Alexander Vantournhout
+ D'eux – Aïcha M'Barek & Hafiz Dhaou
Creation 2020
Open to all, starting at 6 years old
50 mn with intermission
Épaulette (shoulder pads)
alexander vantournhout, assisted by Emmi Väisänen
With Épaulette, Alexander Vantournhout pursues his research on movement within physical limitation and the relationship between performer and clothing. On stage, dancer Astrid Sweeney enters the dance, constrained by hidden or visible pieces of costumes (tight skirts, shoulder pads, high heels shoes…) which transforms and restricts the movement, but also disproportionates the body's appearance.
Here, Alexander Vantournhout seeks to show how, without being conscious of it, each one of us reduces its own physical and expressive potential with what he/she's wearing. How does one in his/her daily life plays with her/his own appearance? How does a too tight simple piece of clothing modifies our physical state or limits our capacities?
Choreography :
Alexander Vantournhout
Choreographic assistant :
Emmi Väisänen
Performance :
Astrid Sweeney
Lighting design :
Xavier Lazarini
Choreographic eye :
Anneleen Keppens
Special thanks to :
Inês Carijó, Sébastien Hendrickx et Mariana Miranda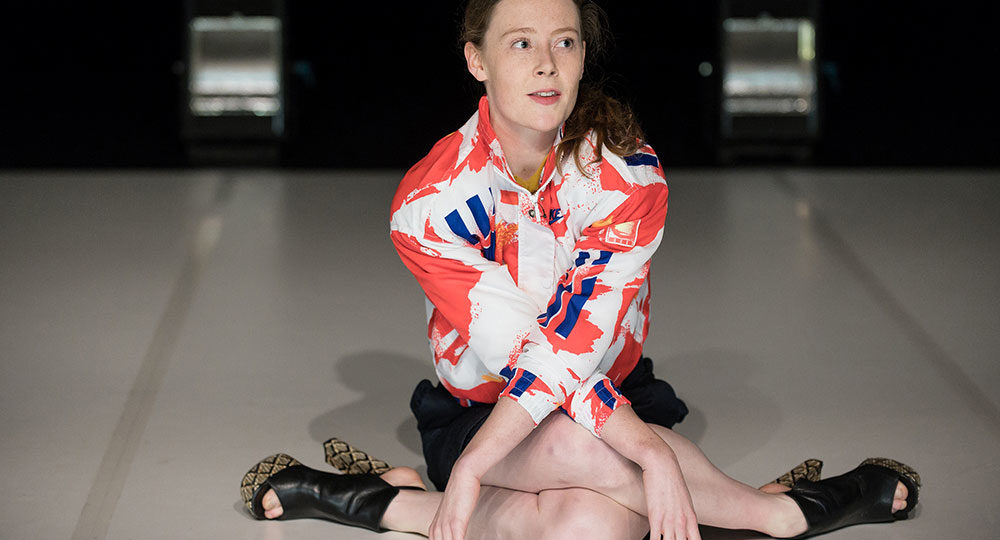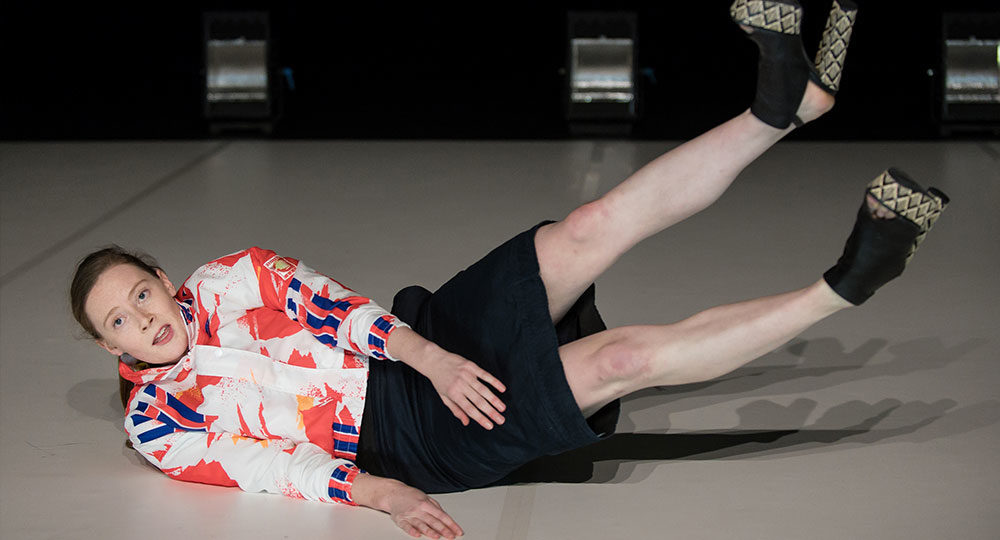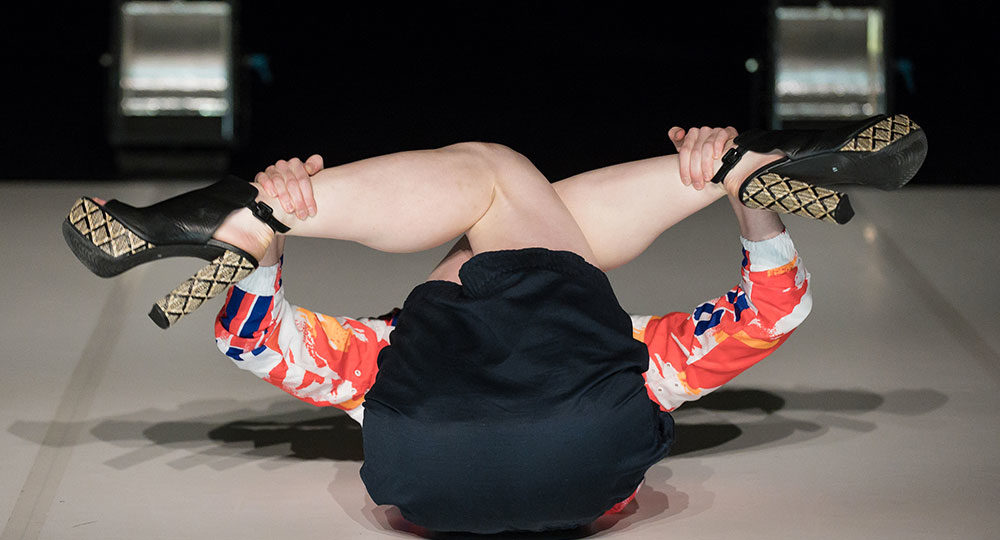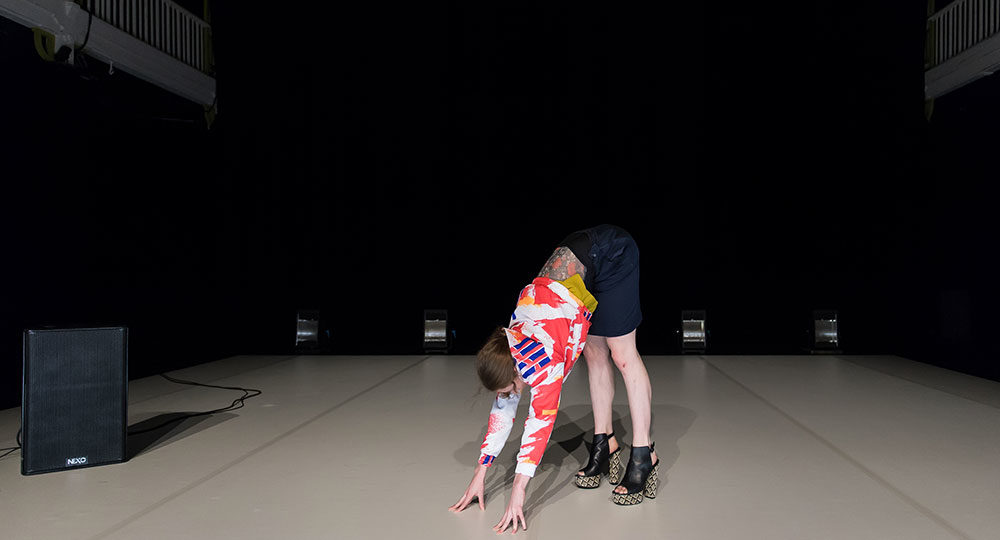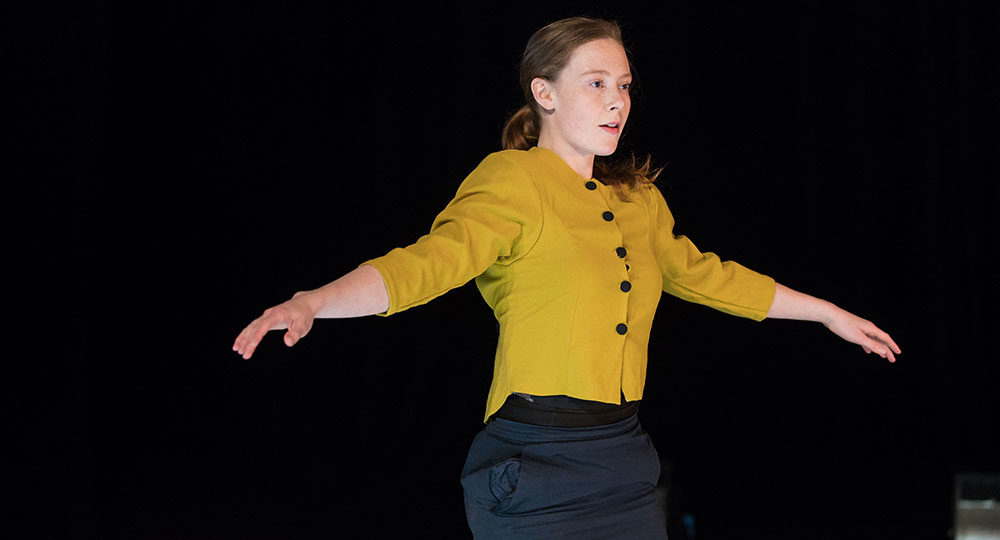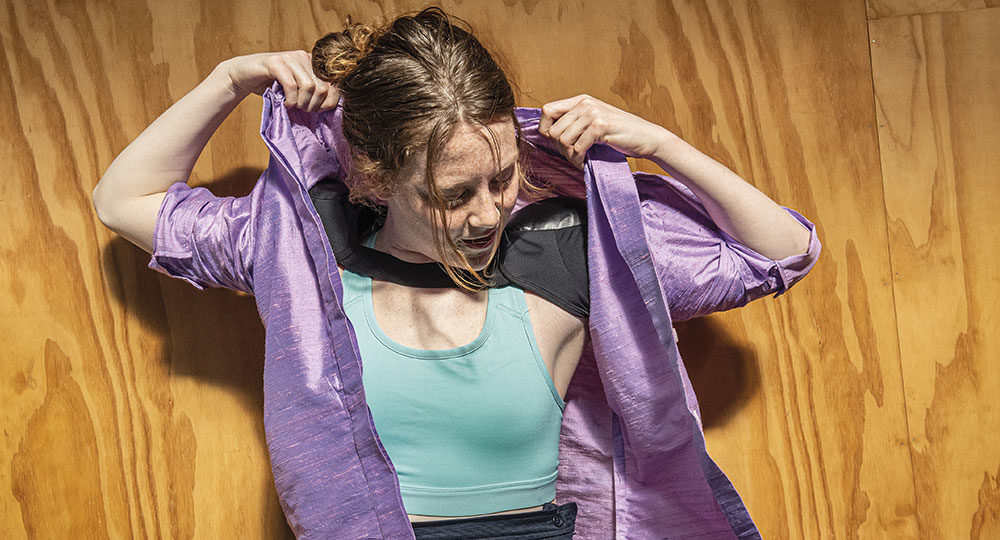 D'eux (From them)
aïcha m'barek & hafiz dhaou
Hafiz Dhaou & Aïcha M'Barek were inspired by the very essence of the project TWICE : its duality. Two pieces, two way of choreographing, two performers… With D'eux, it is this same idea which is developed. Hafiz et Aïcha choreograph duet pieces since many years, and here they collaborate with two female dancers, Johanna Mandonnet, with whom they regularly work, and Astrid Sweeney whom they have just met.
D'eux also holds the notion of otherness: who am I « me » in relation to « them »? How to interact?
D'eux is about this quest of equilibrium within the encounter of two bodies, two origins (Johanna is Malagasy, Astrid is Danish), two bodily gestures, putting into light the desire to create a shared object, complementing one another.
Choreography :
Aïcha M'Barek & Hafiz Dhaou
Performance :
Johanna Mandonnet & Astrid Sweeney
Lighting design :
Xavier Lazarini
Sound design :
Hafiz Dhaou
Costumes :
Aïcha M'Barek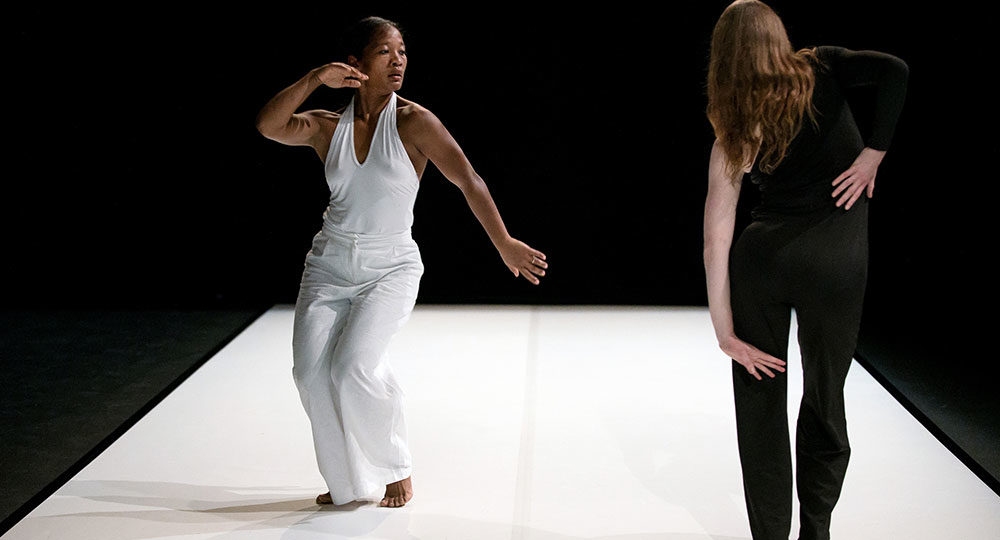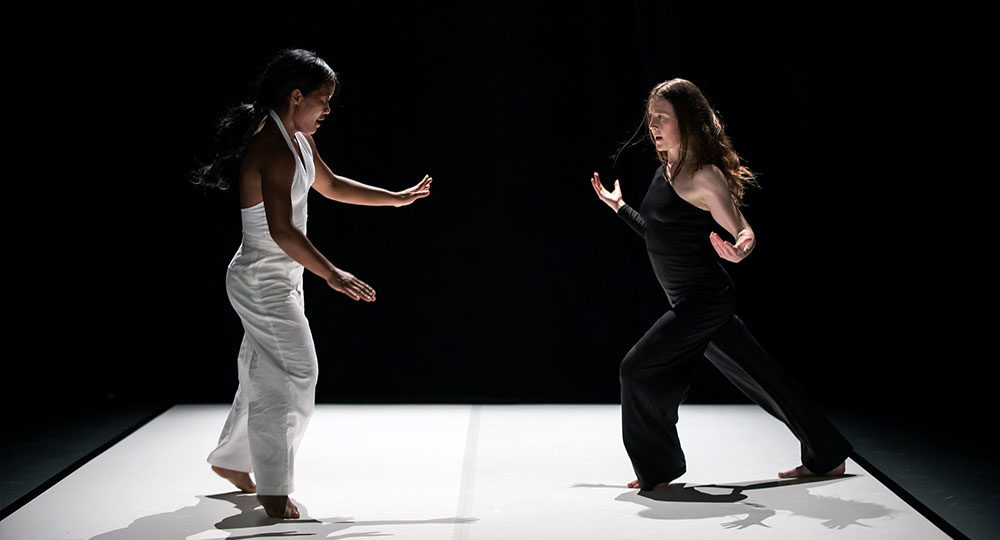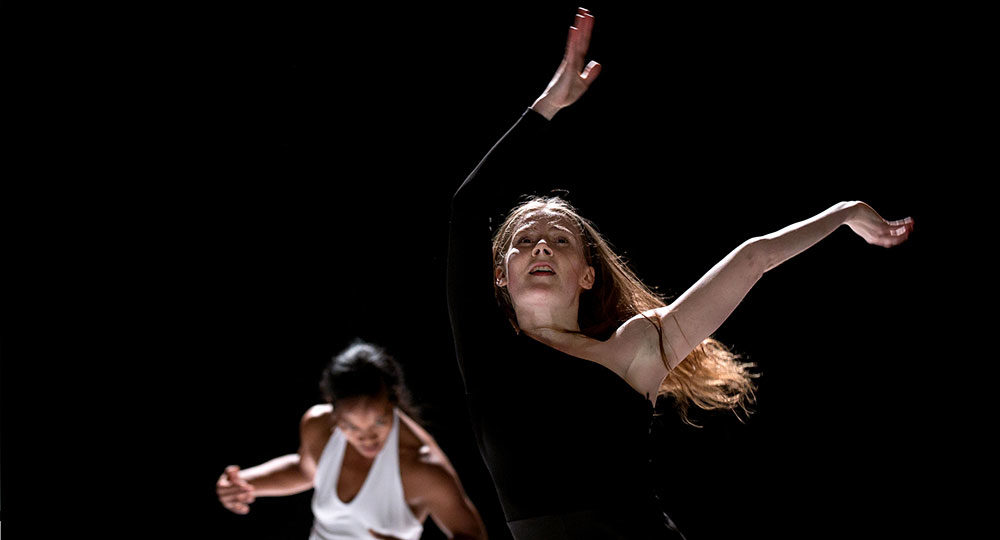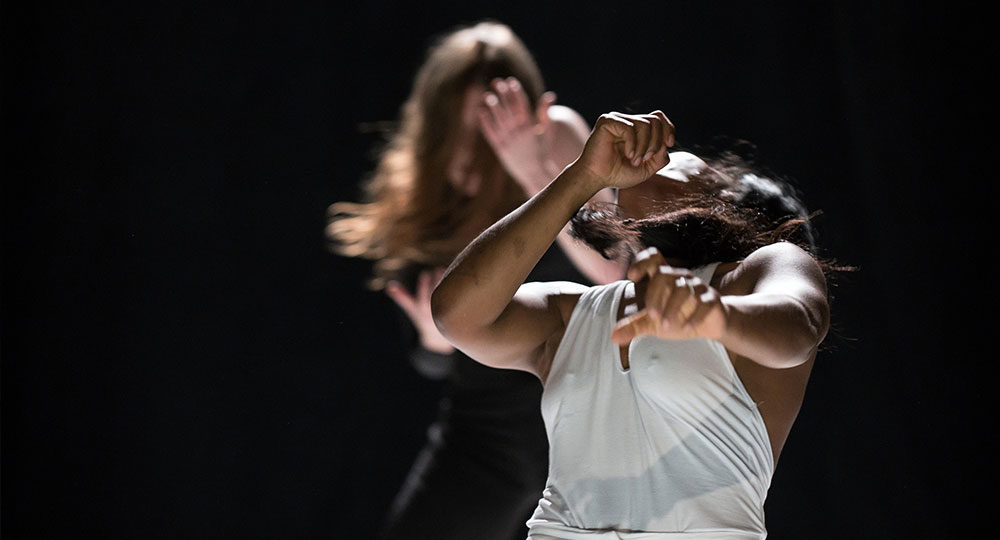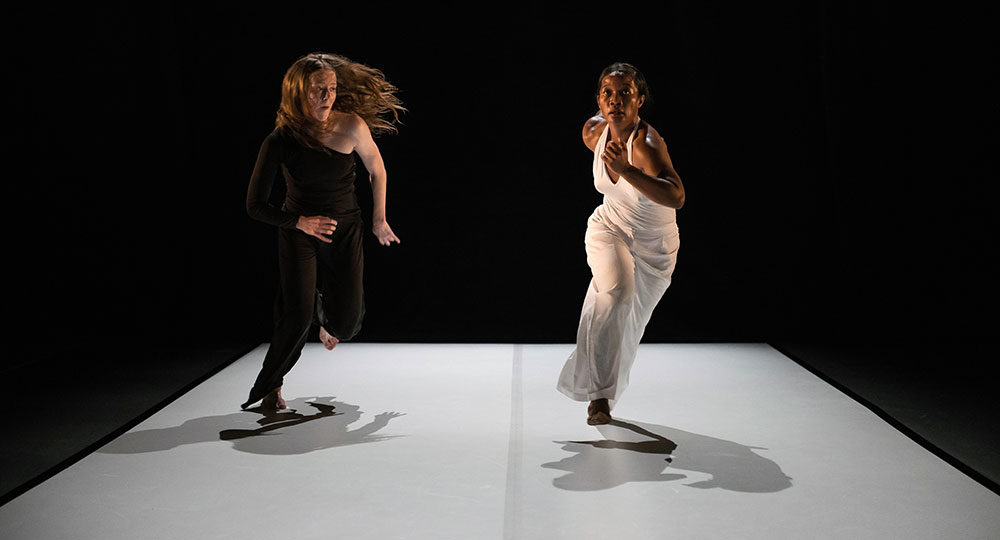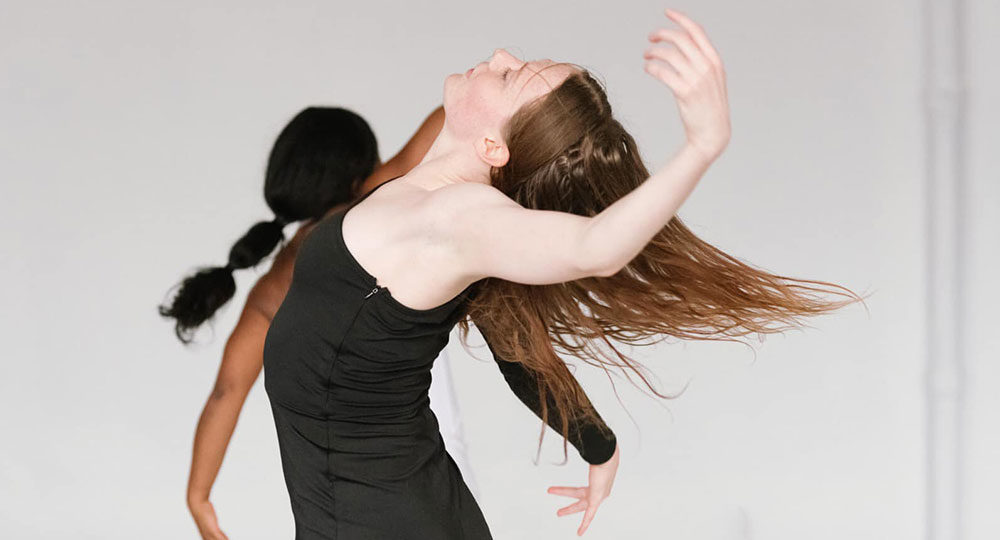 Performances
2020-2021 tour (in progress)
Production
Le Gymnase CDCN Roubaix – Hauts-de-France
Coproduction
Chaillot – Théâtre national de la Danse, La Manufacture CDCN Nouvelle-Aquitaine Bordeaux . La Rochelle, POLE-SUD CDCN Strasbourg, Charleroi danse – Centre chorégraphique de Wallonie-Bruxelles, Le Rive Gauche – scène conventionnée d'intérêt national art et création – danse, HET LAB, Les Hivernales – Centre de Développement Chorégraphique National d'Avignon
A project led by LOOP – a network for dance and young people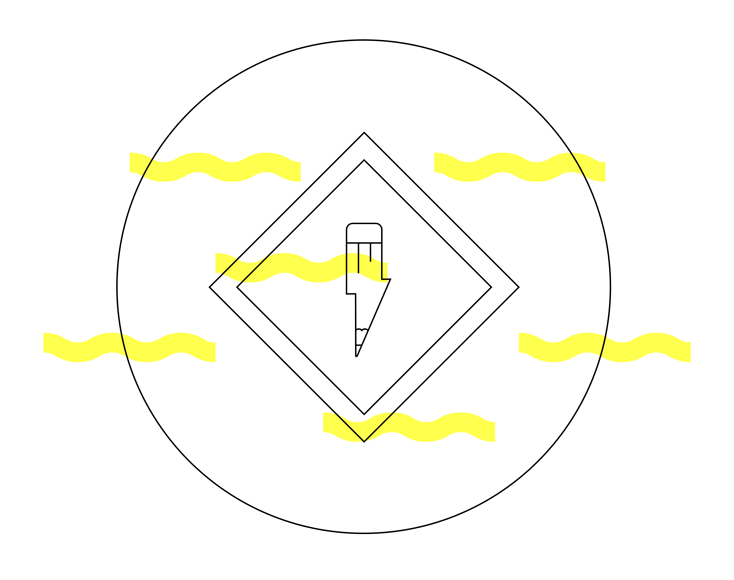 Educational tool and document around TWICE#2
TWICE#2 comes with an educational package conceived and created in resonance with the two programmed pieces. It takes the form of a sound message heard during intermission, right after the first piece of the program, while the change of set is taking place in front of the audience. The intermission gives the audience members the opportunity to observe and to emphasise the technical dimension of each work, but also to fully embrace one's position as a « spectator » .
An educational document for the teachers is also available, suggesting ways of « reading » the program's choreographic work, which the teaching staff can outline with their students before and/or after the performance.
TO DOWNLOAD THE DOCUMENT
Further program details and important information can be found in our document.
Origins of the project TWICE
During the Summer 2014, the Ministry of Culture launched La Belle Saison for children and youth, which aimed to present the richness of dance work for children and youth. Within this context, the Dance Delegation had invited Le Gymnase CDCN Roubaix – Hauts-de-France, in partnership with La Manufacture CDCN Nouvelle Aquitaine Bordeaux . La Rochelle, to create for the first time an artistic and choreographic production geared towards a young audience.
Titled Au pied de la lettre (Literally), the project took the form of commissioned works to choreographers who were not concerned with the issue of young audiences, of different generations and aesthetics. they were asked to each make a short 20 minute piece to be presented within the same program. These two pieces, made for the same production, were supposed to take their source of inspiration from a written text, whatever it may be.
Two phases have thus emerged :
– Au pied de la lettre #1 (February 2015) : Anne Nguyen and Michel Schweizer
– Au pied de la lettre #2 (January 2016) : Ambra Senatore and Loïc Touzé
In keeping with these first experiences, Le Gymnase CDCN kept thinking further and set up LOOP, a professional network for dance and youth, and initiated a new project involving making work for dance and youth titled TWICE. Even though the connection to a written text developed in Au pied de la lettre was left aside, the premise stayed the same : an invitation to two choreographers of difference aesthetics, who have never made a piece for a young audience before, to create two short pieces with the same two performers. The LOOP network has also chosen to partially open the invitation to international choreographers.
And so, the first phase, created in February 2019, invited the choreographers Emmanuel Eggermont and Robyn Orlin to overlap their approach of dance making. For the second phase, choreographers' duet Aïcha M'Barek & Hafiz Dhaou, and the flemish artist Alexander Vantournhout take the project over.